"What's New"

UPCOMING 1999 UK DATES FOR ALVIS WAYNE
A ...
Friday 27th August 1999
Wellingborough Railway Club
Alvis Wayne + Darrel Higham's Enforcers
Hot Rockin'
The Infernos
DJ's - Strollin' Steve, Cat Talk & Tim's Heptunes.
7.30pm - 2.00am
B ...
Saturday 28th August 1999
Chingford Assembly Hall, Station Road, Chingford, London, E4.
Alvis Wayne + Darrel Higham's Enforcers + The Railmen
DJ's - Cosmic Keith + Tim's Heptunes.
7.30pm - 12.00 (Midnight)
For Details Contact John - Tele: 01908 609522



Tony Wilkinson: Many Hot New CD Reviews.


Eddie Bond's Rockabilly Hall of Fame Page


Burl Boykin's Rockabilly Hall of Fame Page


Linda Gail Lewis' Rockabilly Hall of Fame Page


Linda Gail Lewis' Photo Page by Rod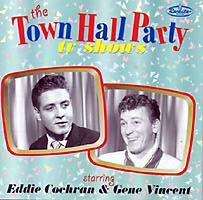 Click for photos
The New Town Hall Party CD Now available at the London Hall of Fame Store.


CLICK to visit the HEMSBY webite
The Blue Caps will appear at the Eddie Cochran Weekend at Chippenham, UK on Saturday 2nd October 1999. Italy's Marco DiMaggio has been added to the bill. More info to come.


Joe Brown's Official Website
NOTICE TO ROCKABILLY ARTISTS IN THE UK AND EUROPE: Rod will be accepting your CDs for the new "ROCKABILLY 2000" / www.mp3rockabilly.com website. Selected tracks can be posted for worldwide downloading and you will be paid per download. E-mail Rod for more information.


NARVEL AT HEMSBY, Faye Huffman adds her review on Narvel's Special Review/Photo Page.


Review of the recent Americana Show & Spending Time with Narvel Felts


Make Plans for the UK's "WINTER R&R PARTY"



Jerry Chat-A-Box - Rockabilly Rave
3 nights of red hot rockabilly, 12-14, November, 1999





The Phil & Shaun Show
Always something new and exciting from our Wales Reporters. Links to many of the Rockabilly HOF pages they created can be found here.


DICKIE "BE-BOP" HARRELL. If you would like to write to original drummer Dickie Harrell, his address is 4113 Raven St., Portsmouth, VA 23702 USA. Dickie is retired now (from his real job), loves getting fan mail, and has the time to answer your letters. He'll even do radio interviews. He is considering offering is own brand of autographed drum sticks. For more information on ordering a set or two contact ol' "Be-Bop" himself. Dickie is not on-line, but we'll see that he gets all your Dickie e-mails.


---


Submissions
Submit your rockabilly related articles, reviews, bios and photographs. Please e-mail Rod & Dave to obtain submission instructions.

Show Dates
Please e-mail Rod & Dave and give the upcoming dates of your bookings so we may post them here.


Rod & Dave's Recommended
Rockabilly Hall of Fame Pages

The Official VIVA LAS VEGAS ROCKABILLY WEEKEND Website
April 20th - 24th 2000 - Easter Weekend
Lendend Makers Talent Agency/US
Bennie Dingo's Rock-it Radio
American Music Magazine
Central Europe News (feature)
Chat-A-Box, Jerry
Countries That View the HOF
DiMaggio Bros.
Eddie Cochran
Elvis Letters: A Great Story Unfolds
Gene Vincent Discography Book
Gene Vincent Official Website
Gene Vincent's Children Photos
Git It: Gene Vincent Int'l Fan Club
Hemsby 22, May 5-9, 1999
Hemsby History
Narvel Felts
Narvel's Reviews, Photos, Merchandise
Part Records
Paul Barrett
Rhythm Riot
Shakin' Stevens
Sunjay Records
Swindon Club
Tennessee Club
Tennesse Club's Ritchie Gee
Thunderbird Club
Toini
UK, London RAB Hall of Fame Store
Vampirella Music
THE COMPLETE ROCKABILLY HOF SITE INDEX
Join the RAB HOF E-mail Discussion List